Lincoln the Lawyer
Lincoln-Herndon Legal Document, March 1855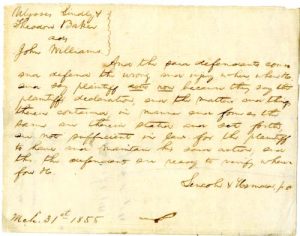 Abraham Lincoln was a voracious reader, teaching himself law. He was admitted the Illinois bar in 1836, and began practicing law in Springfield, Illinois. He soon became a successful attorney. In 1844, he formed a practice with another young attorney, William Herndon. Lincoln continued to practice law when not actively engaged in politics or holding elected office. Twice a year most years, until he was elected president, Lincoln traveled the judicial circuit for ten weeks, representing clients at county seats across central Illinois.
This manuscript was written by Lincoln as a member of the Lincoln and Herndon law practice. The document is from the case Lindley and Baker v, Williams. According to the suit, Lindley and Baker gave the Mechanics and Farmers Bank in Springfield, Illinois, a promissory note for $1,000. The bank assigned the note to Williams. After Lindley and Baker failed to pay, Williams sued them in an action of assumpsit to recover the debt. Lindley and Baker retained Lincoln and Herndon. The court ruled for Williams and awarded $1,013.32 in damages. Lincoln appealed the judgment to the Illinois Supreme Court, but it dismissed the appeal and ordered a writ of procedendo to the lower court.
Learn more about Lincoln's career as a lawyer.
Lincoln and Mexico
Consul Appointment, March 1863
After arriving in Washington the Lincoln family soon formed a close relationship with 24-year-old Mexican Ambassador Matias Romero, who even escorted Mary Lincoln on her frequent shopping trips. The military and financial demands of the Civil War prevented Lincoln from giving Mexican President Benito Juarez's government direct assistance, but he did permit them to raise funds in the United States.
When France intervened in Mexico, Lincoln refused to recognize the regime of Maximilian and instead maintained diplomatic relations with Juarez's government. In this March 1863 document, Lincoln appoints J.H Mansfield as head of the American consulate in Tabasco, a region split between Juarez supporters and French collaborators. Upon his arrival in Tabasco, Mansfield demonstrated his support for Juarez by publicly burning a French Foreign Legion redshirt. This rather undiplomatic act raised the ire of a local warlord who imprisoned Mansfield in an overcrowded public jail for four months.
Learn more about international relations with Mexico during the Civil War.
The acquisition of these manuscripts was made possible by generous donors to the 2017 Watchorn Lincoln Dinner Sponsorship Fund.