The History of the Lincoln Memorial Shrine
Gifted by Robert and Alma Watchorn in 1932, the Lincoln Memorial Shrine was originally designed in an octagon shape by noted Southern California architect Elmer Grey. The construction of reinforced concrete was faced with Bedford Indiana limestone plates upon which are inscribed excerpts from Lincoln's speeches.
Although the original plan called for 75 foot long patio wings to extend from each side of the Shrine, complete with fountains, benches, and additional inscriptions, it was not until 1937 that these areas were added. The additions were crafted from the same material used in the octagon with the Indiana limestone selected to match before leaving the quarry. As originally planned, these patio areas featured additional excerpts from Lincoln's speeches inscribed into the walls and fountains designed by noted American sculptor Merrill Gage. The Watchorns always desired to expand the facility, but the lingering effects of the Great Depression followed by the start of World War II caused them to postpone their plans. In 1944, Robert Watchorn passed away this dream unfulfilled.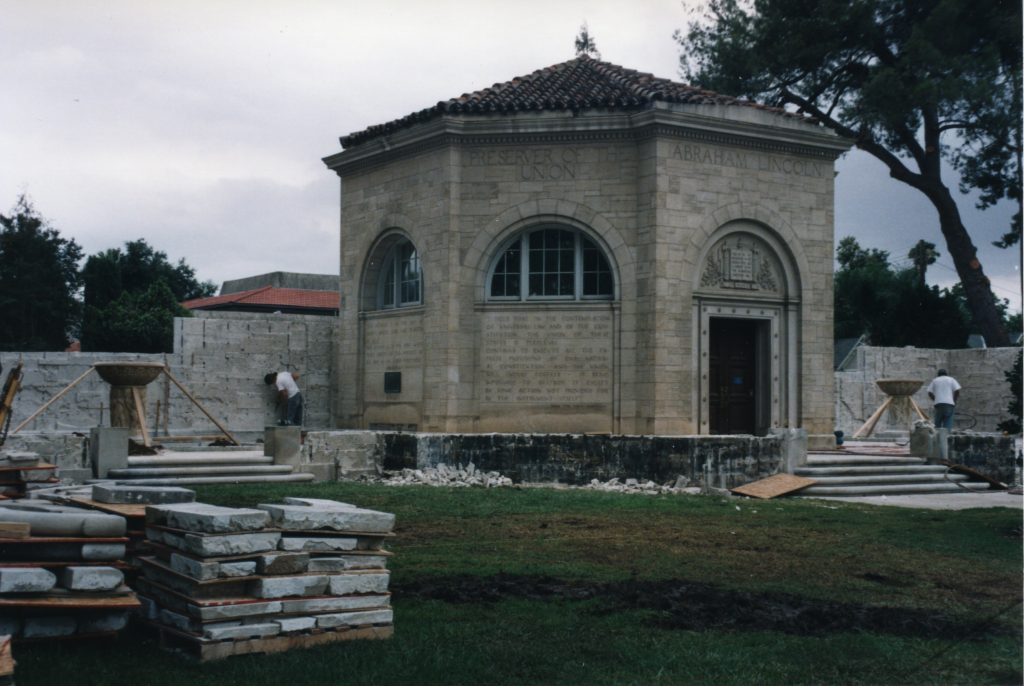 On February 12, 1998, the Watchorns' desire for an enlarged facility was realized when the newly expanded Shrine was rededicated. After four and a half years of fund raising two new wings were added to the original octagon where the patio areas had been located. The design called for moving the fountain and pool areas forward. Careful removal and repositioning of the limestone panels, and the selection of new materials created a harmonious blend of new wings with original octagon.
The interior of the Shrine features bookcases from Circassian walnut in the original octagon. The woodwork in the new wings was chosen to complement the original furnishings.
Learn more about the Watchorn family and their contributions.