Lincoln Shrine Christmas Carols
The Lincoln Memorial Shrine invites you to celebrate the holiday season with Civil War Christmas Carols by the Camp Carleton Band on Saturday, December 18th at 11am in Smiley Park outside of the Lincoln Memorial Shrine. From timeless classics like "Deck the Halls" and "Silent Night", to songs that have dropped out of popular use, come, sing, and learn about the holiday music of the Civil War.
Visitors of all ages are welcome. Admission is free. The Lincoln Memorial Shrine is located at 125 W. Vine Street in Smiley Park, directly south of A.K. Smiley Public Library. If you have any questions, call (909)798-7632 or email heritage@akspl.org. You won't want to miss it!
---
Shrine Dedicates New Cannon
On Saturday, August 14, 2021, the Lincoln Memorial Shine dedicated its new cannon in Smiley Park! Thanks to the generosity of the Nies family of Redlands, the Lincoln Shrine now stewards a reproduction Model 1857 Napoleon 12-pounder field gun dated 1864.
The dedication ceremony included the participation of Civil War reenactors and featured an artillery demonstration by the 1st Pennsylvania Light Artillery who instructed donor Dr. Boyd Nies as he fired the inaugural shot.
Come and see the cannon in person. It's the perfect selfie location! Make sure to tag @lincolnshine and use the hashtag #lincolnshrine to share your photos.
---
Juneteenth Becomes a Federal Holiday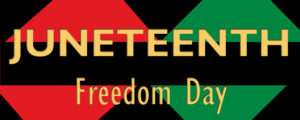 From its very founding, the United States had a precarious relationship with freedom.  While the Declaration of Independence clearly stated that "all men are created equal", the actual practice of enslaving people tested whether, in practice, that ideal could ever be a reality.  Enslavement was the single most divisive issue of the early republic.  When Southern states perceived that Abraham Lincoln's election threatened what they believed was their "right" to enslave others, those states attempted to break the bonds of the United States to each other.  The result was civil war, with some 800,000 or more Americans perishing.
President Abraham Lincoln issued his Emancipation Proclamation on January 1, 1863, declaring that all enslaved people located within states in rebellion against the United States "shall be then, thenceforward, and forever free."
Before that, some enslaved people had already found ways to emancipate themselves, with groups like the Underground Railroad, by finding a detachment of the United States Army, or simply fleeing those who enslaved them and making it successfully to a free state. As the United States Army liberated states in rebellion, enslaved people there were freed. However, not everyone was aware of emancipation, even after the Civil War was over. In Texas, it wasn't until US General Gordon Grainger issued General Order #3 on June 19, 1865 that:
"The people are informed that in accordance with a Proclamation from the Executive of the United States, all slaves are free. This involves an absolute equality of personal rights and rights of property, between former masters and slaves, and the connection heretofore existing between them, become that between employer and hired labor."
From that day, June 19, came a jubilee celebration for the last of the enslaved people of the United States, who finally learned of their new freedom. Juneteenth, as it became known, commemorates this day.
On June 17, 2021, the importance of what Juneteenth represents was recognized by the United States with the designation of June 19, "Juneteenth", as a federal holiday.
---
89th Watchorn Lincoln Dinner
Watch the 2021 Watchorn Lincoln Dinner on the Special Collections YouTube channel. The reimagined event includes past Lincoln Dinner speakers, music, and an appearance by President Lincoln!
---