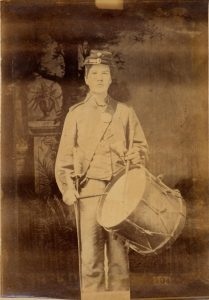 Benjamin Franklin Hilliker was born in Erie, New York on May 23, 1843. In 1857 he moved with his parents to Wisconsin where he learned the trade of carpenter.
When the Civil War broke out in 1861, eighteen year old Hilliker answered Lincoln's call for volunteers by enlisting as a drummer in Company A, 8th Wisconsin Infantry. Over the next two years the regiment saw plenty of action as part of General Ulysses S. Grant's army.  At the battle of Corinth, Mississippi in October, 1862 the regiment suffered particularly heavy casualties. The following May, Hilliker's regiment participated in Grant's failed attack on Vicksburg. A siege would be necessary to starve out the stubborn Confederate garrison commanded by General John Pemberton.
In early June, Hilliker's company was detached as part of a two division reconnaissance in force under the command of Francis P. Blair, Jr., the brother of Lincoln's postmaster general.  Blair's mission was to determine the whereabouts of Confederate General Joseph Johnston's army, which was thought to be gathering to lift the siege of Vicksburg.  At the same time the Union force devastated the fertile farms of the area, seizing cattle, destroying crops, burning mills and freeing slaves. On June 4th at Mechanicsburg, Mississippi the expedition ran into resistance. A year later, Benjamin Hilliker recalled his memory of that day.
"During the skirmishing near Mechanicsburg, I was still company drummer, but I exchanged my drum for a gun, as I had done on former occasions, and went into the fight with my company. Fear in battle never seemed to unnerve me. I felt better at the front in the heat of the fight than I did at the rear.
When the fight I mention was becoming interesting, I, with  comrade John Horton, advanced about eight rods [about 40 yards] in front of our line to get a clear view of the Confederate line, and in this we were satisfied, for when we reached the top of a low hill, we were within six or eight rods of the Confederates. My comrade was near my side when we came within the range of the enemy, and we both raised our rifles together to fire. Horton's gun rang out sharply, but mine snapped or missed fire, which placed me in an awkward position. Horton covered himself to the right behind a tree and I jumped into a surface sand pit to the left. While recapping my gun, something occurred that seemed to me like a terrific explosion.
It proved to be a Minie ball passing through my head. It entered at the base of the mastoid process, tore through my head, and passed out at the left nostril. The first words I heard after the unpleasant incident were; 'Lay him in the shade over there-he won't last long.' But I have lasted, though I have to carry around a bad looking face where good looks might have served me better."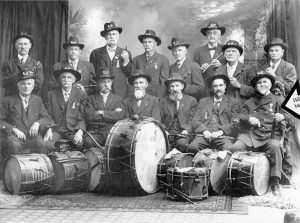 Hilliker recovered from his grievous wounds. Awarded a pension, he married and eventually settled in Los Angeles. In 1897 he was recognized with the Medal of Honor for his dramatic act 34 years earlier.
Thanks to the generosity of Dorothy Cornitius of Auburn, California and her family, the Lincoln Memorial Shrine acquired the Medal of Honor and drum of Civil War hero Benjamin Hilliker.