Abraham Lincoln
Bust
George Grey Barnard (1863-1938)
Carrara Marble
Gift of Robert and Alma Watchorn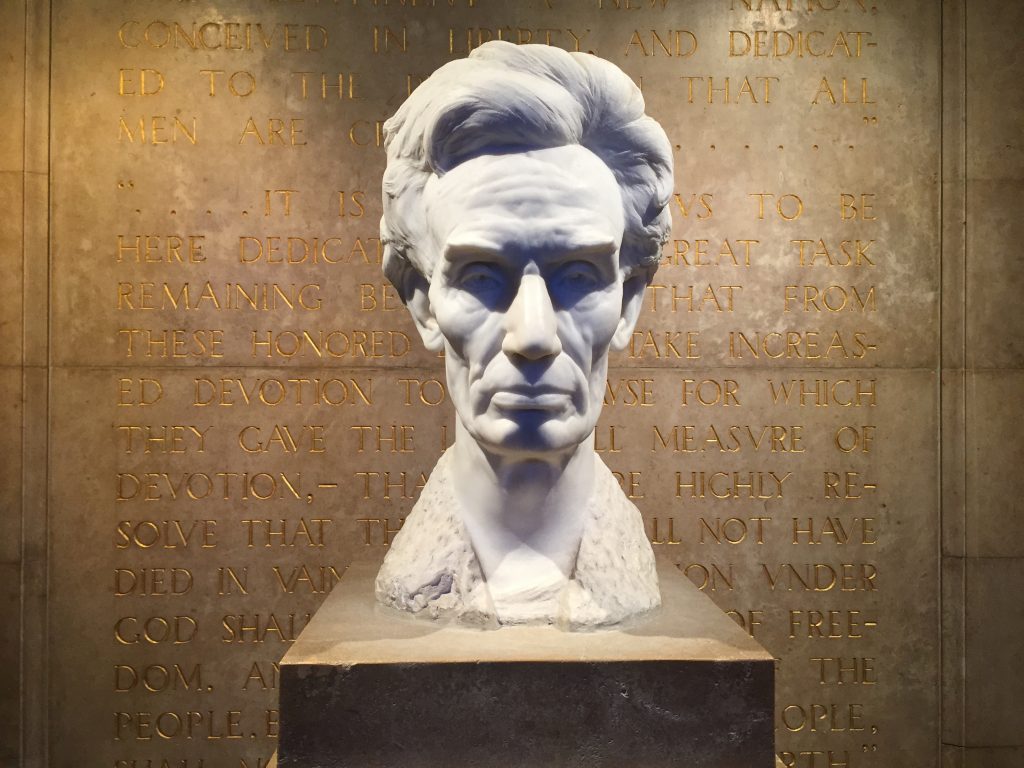 American sculptor George Grey Barnard was born in Pennsylvania in 1863 as the fires of the Civil War were burning brightly.  As a young man in Chicago, Barnard studied at the Academy of Design under the tutelage of Leonard and Douglas Volk.  In 1886, he moved to Paris to continue his studies.  He lived the life of a "starving artist" until he was discovered by American millionaire and patron of the arts Albert Corning Clark.  Commissions and an annual stipend soon followed.  In 1896, he completed his monumental work "The Great God Pan", the largest one piece bronze in America, located at Columbia University.  He received a large commission to create an intricate group of life sized statues that would flank the entrance of the Pennsylvania State Capitol in Harrisburg.  After years of delay and controversy, including the forced emasculation of some of the naked male figures, the work was finally unveiled in 1911.
That same year, he received a commission from Charles Taft, half-brother of the president, to create a Lincoln statue for the city of Cincinnati. The sculptor studied virtually every known photograph and illustration of Lincoln before undertaking the sculpture.  He examined other Lincoln statuary and Leonard Volk's life-mask of Lincoln.  He created "mock-ups" in order to study Lincoln's image from every angle.  As part of that process, Barnard sculpted several larger than life busts from Carrera marble.  One was purchased by Lincolnophile Robert Watchorn in 1921.  "If a Lincoln statue turns the greatest aristocrat or the most ragged lost soul away, the statue is unworthy," Barnard declared.  "A Lincoln statue should be so conceived that no man or woman could stand before it without feeling, here is one who understands."
When Barnard's Cincinnati Lincoln was unveiled in 1917, it sparked a major controversy.  Unlike his busts, the statue was derided for over-emphasizing Lincoln's roughhewn common appearance.  It was described as "horrible", "grotesque" and even "defamatory".   Among the most vocal was Robert Todd Lincoln, who lobbied successfully to prevent a replica of the statue from being erected in London.
In the later years of his life, Barnard supplemented his diminishing art commissions by serving as an art dealer and collector specializing in medieval European art.  His holdings would form the basis of the Metropolitan Museum of Art's Cloisters Collection.  Barnard died in 1938 in New York City at age 75.  He was unable to complete what he hoped would be his masterpiece, a 100 foot high, 60 foot wide "Rainbow Arch"  dedicated to peace featuring dozens of life sized figures.