General Ulysses S. Grant
General Robert E. Lee
1932
Cartaino S. Paolo (1881-1955)
Bronze
Gift of Robert and Alma Watchorn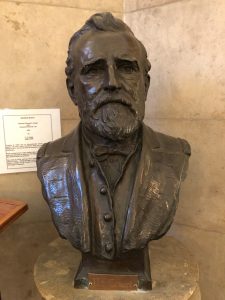 Cartaino S. Paolo was an internationally known sculptor and painter from Palermo, Sicily. He arrived in the United States in 1911 and maintained studios in New York and Boston where he worked in terra cotta, marble, stone, and granite. He paid close attention to detail and created figures resembling the style of the classical Italian Renaissance. These busts of Generals Grant and Lee were commissioned for the Lincoln Memorial Shrine by the museum's founders Robert and Alma Watchorn in 1932.