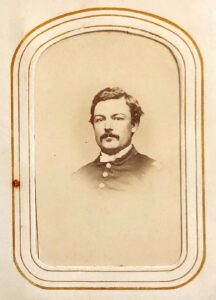 The patriarch of the Packer family was E. Perry Packer was born in Connecticut in 1839. His family moved to Rhode Island when he was a child and Perry worked in a textile mill when he was around 11 years old. At the time the war began, 22-year-old Perry was a clerk in North Stonington, CT. He enlisted as a 2nd Lieutenant on August 8, 1862 and was mustered in to Company G of the 21st Connecticut Infantry the following month.
Packer was promoted to 1st Lieutenant in June, 1863. He sustained an injury at Chapin's Bluff, Virginia during the weeklong struggle in and around Fort Harrison in late September of 1864. He received a promotion to Captain two weeks later. The 21st Connecticut Infantry mustered out in June 1865.
After leaving the military, Packer returned to his home state and married Mary Ellen Morgan in 1865 and their daughter Mary Morgan was born in 1871. He became active in veteran's groups and political organizations, including serving as President of the Grant Club, formed to bolster Ulysses S. Grant's chances of winning the Presidential election in 1868; Post Commander of the Arthur H. Dutton Post, No. 28, Grand Army of the Republic; delegate to multiple Republican state conventions; and was nominated for Connecticut state comptroller 1874. His affiliation with public organizations earned him a great reputation, which was beneficial for his retail business in South Coventry. It was common for Packer to be referred to as Major or Colonel, despite not having attained those ranks in the military.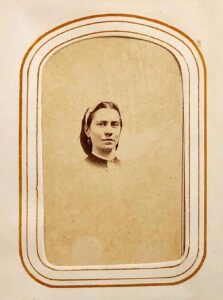 Packer's life shifted dramatically in 1875 when his business failed and he was forced to declare bankruptcy. With debts totaling approximately $35,000 and his creditors refusing a settlement offer, Packer vanished, leaving his wife and family to deal with the blowback. In his absence, local newspapers detailed the extent of his alleged crimes, "His operations in [Hartford]…proved to be of the most personal friendship, and even used his Masonic associations to deliberately cheat those who confided in him as a safe business man. The facts disclosed by investigation within the past few months reveal a systematic course of deception and an intent to defraud."
It is no wonder his whereabouts remained a mystery in Connecticut, because E. Perry Packer moved across the country to Santa Monica, California and changed his name to Colonel E.K. Chapin. The choice of "Chapin" as a surname was likely an homage to the Battle of Chapin's Bluff, where he was wounded during the war. The newly coined Colonel Chapin found assistance from friend and fellow veteran of the 21st Connecticut, 1st Sergeant William C. Bassett who moved to California in the late 1860s and owned a store in Santa Monica when Chapin arrived. Chapin's wife and daughter joined him within a few years and took on the new surreptitious surname.
Colonel Chapin encountered a few financial difficulties in Santa Monica before embarking on a successful career as a merchant and founding city treasurer. At the height of his influence, he was one of the most well respected men in the city and was active in state politics, just as he had in his previous life. When his wife, Mary, was forced to declare her business bankrupt in December 1890, Colonel Chapin was not affected and opened a new business of his own the following month.
In a sad turn of events, Colonel E.K. Chapin died on July 7, 1891 following a long illness. In a tribute, the Los Angeles Evening Express described him as "one of the most beloved, one of the most sincere of friends, a progressive citizen, one whose sympathy and aid was never asked in vain, a noble husband, father, [and] friend."
Mary Ellen and her daughter Mary Morgan Chapin remained in Santa Monica following the Colonel's death. Mary Ellen passed away in 1913. Mary Morgan married Allan M. Jamison on November 15, 1899 and the pair had a daughter also named Mary. The younger Mary wed Charles M. Brown, Jr. of Redlands in 1924 and had two daughters, Mary Jamison and Susanne. The family donated the album and other family photographs to the Lincoln Shrine in 2015.