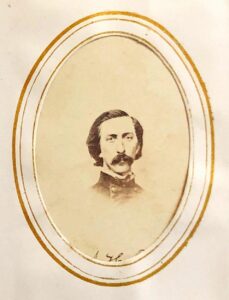 The 21st Connecticut Infantry was organized under Colonel Arthur H. Dutton (1838-1864) in August, 1862. Dutton was a graduate of West Point's class of 1861 with future Civil War notables as Hugh "Kill-Cavalry" Kilpatrick, George A. Custer, Patrick O'Rourke, and Alonzo Cushing.  His first appointment was as Captain in the Corps of Engineers under General Joseph Mansfield before being promoted to Colonel and being placed in command of the 21st Connecticut.
Dutton was held in high esteem by everyone he worked with and was described as "bold and chivalrous, with a nice sense of honor, a judgement quick and decisive, an unwavering zeal in his chosen profession, he was in every respect a through soldier." He was also ambitious. When remembering him, a friend relayed a story about when Dutton first tried on a uniform dress coat with the insignia of his rank as Colonel. The friend remarked "Those silver eagles look well," to which Dutton replied "Yes, but a Brigadier's star would look better."
He married Maria M. Sands in Washington, D.C. on June 6, 1863; they had one son. Dutton was fatally injured on May 26, 1864 while on a reconnaissance mission near Bermuda Hundred, Virginia. He was shot through the face, shattering his jaw and was transported to a Union hospital at Fortress Monroe. He died on June 5th after suffering a hemorrhage while being transferred to a hospital in Baltimore and was posthumously promoted to Brigadier General. Tragically his funeral was held at the same church where he was married exactly one year earlier. He is buried in Arlington National Cemetery and also has a memorial at In Memoriam Cemetery in Wallingford, CT.