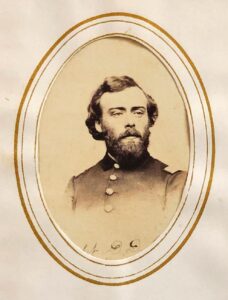 Born in Orleans, Massachusetts, Daniel Delos Brown (1838-1907) was working in a bell shop in Chatham, Connecticut when the war began. He enlisted as a 1st Lieutenant in Company H, 21st Connecticut Infantry on September 5, 1862. His father, the Reverend Thomas G. Brown enlisted in the regiment as a Chaplain at the age of 63 and was wounded by a shell while praying over a dying soldier at the Battle of Drewry's Bluff in May, 1864, earning the moniker "The Fighting Chaplain". In addition to his father, Brown's two brothers also served in the military during the war.
On June 3, 1864, Brown and his company were assigned to escort Confederate General Fitzhugh Lee to Fortress Monroe as a prisoner of war. He was promoted to Captain of Company I two days later. His brother-in-law Frederick W.H. Buell of Company H died in service in early January 1865. Brown was honorably discharged on October 21, 1864 and his father was mustered out on June 16, 1865.
On September 2, 1862, Brown married Anna E. Veazey, the daughter of his employer in Chatham. After the war, Brown partnered with his father-in-law Warren Veazey to manage a bell manufacturing company for a time and later worked in mercantile and as a machinist. He joined the Joseph K. Mansfield post #53 of the Grand Army of the Republic in Middletown and the Navy Club of Connecticut. In the 1880s, Brown wrote the regimental history for the 21st Connecticut, which was published in Record of service of Connecticut men in the army and navy of the United States during the War of the Rebellion in 1889.
He served as County Commissioner of Middlesex County and Postmaster of East Hampton, a post he was reappointed to by President Theodore Roosevelt in 1906. Brown died on January 30, 1907, possibly from as a result of a stroke, and is buried at Lakeview Cemetery in East Hampton, CT.