Baker lay in state at funerals in Washington, DC, Philadelphia, and New York City before his body was sent to San Francisco for interment. When his casket arrived in San Francisco in early December, obsequies were held for the slain Senator and his body lay in state in Platt's Music Hall for three days, December 9, 10, and 11.
San Francisco resident Louis R. Townsend viewed Baker's catafalque in the Music Hall and sketched it with the hope that it would be printed in Harper's Weekly: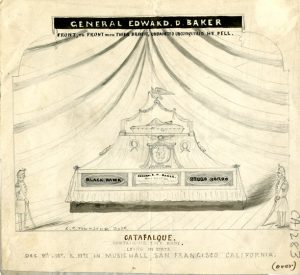 To the Eds of the Harpers Weekly,
I enclose to you this rough sketch of Gen Bakers catafalque.  If it is used remit the amount that you think it is worth or send me the paper by mail as a subscriber.  I send a view of the procession of Gen Bakers funeral. I select your paper for it is the most sought after here.  I have been for years a constant subscriber, taking the paper on the arrival of ev'y steamer, and if my rough sketches are worth putting in your paper I shall endeavor to send more illustrations, and if events that may happen connected with the war or any thing that shall prove interesting, I should like the appointment as artist for your ___ paper for this coast as it would be the means of securing the admission to such scenes, and advantages of any regular reported, of our leading papers.  The only drawback I see is the distance it mite be 70 days before Californians get a sight of the pictures of the Baker obsequies – but at present I cannot send any sketches on sooner than 24 to 30 days. Yours truly L.R. Townsend
Harper's did not publish the sketch.