With the riot suppressed, New York City authorities turned their attention to punishing the worst offenders. This September 7, 1863 manuscript signed by Mayor George Opdike and District Attorney A. Oakey Hall authorizing the payment of a $100 reward to police officer Timothy Golden for his work in arresting a 37 year old Irish rioter named John McAllister for the murder of William Williams.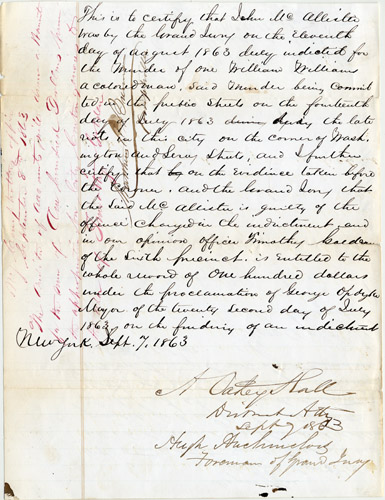 "This is to certify that John McAllister was by the Grand Jury on the Eleventh day of August 1863 duly indicted for the murder of one William Williams a colored man, said murder being committed in the public streets on the fourteenth day of July 1863 during the late riots in this city on the corner of Washington and Leroy streets and I further certify that on the evidence taken before the coroner and the Grand Jury that the said McAllister is guilty of the offense charged in the indictment and in our opinion officer Timothy Golden is entitled to the whole award of one hundred dollars."
Unfortunately available records do not indicate the final disposition of the case.
With thousands of troops in effect now occupying the city, the draft resumed in August, this time without incident. In the remaining two years of the war 150,000 men were drafted. The threat of conscription, however, coupled with a $100 federal bonus for volunteers, had the desired effect of incentivizing communities into finding new recruits for Lincoln's armies .