Lincoln Shrine Open House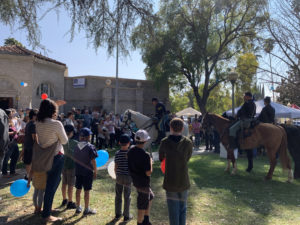 After a two-year hiatus, the Lincoln Shrine Open House returns on Saturday, February 4, 11am-3pm at the Lincoln Memorial Shrine and Smiley Park in Redlands.
The popular annual event will once again features live music, Civil War reenactors, and family activities. The ever-popular 1st Pennsylvania Light Artillery will provide hourly cannon demonstrations, the 7th Michigan Cavalry will discuss the life of cavalrymen during the war, and President Lincoln presenter Robert Broski will recite the Gettysburg Address. Also on hand will be the Sons of Union Veterans, Dr. Malarkey, the Camp Carleton Band, the Inland Empire LEGO User Group with their ever-growing LEGO Civil War battle scene, and many more.
The event will be preceded by the annual Lincoln Pilgrimage, which will culminate with a program on the steps of the Lincoln Shrine at 10:30am. A Redlands tradition since 1940, the Pilgrimage is hosted by the Gray Arrow District, Boy Scouts of America and is sponsored by Redlands Noon Kiwanis.
The Lincoln Shrine Open House is free and open to the public. For more information, please contact the Heritage Room at (909)798-7632.
---
Watchorn Lincoln Dinner
The Watchorn Lincoln Dinner returns to the University of Redlands' Orton Center on Saturday, February 11. In honor of the 91st occasion of the annual event, the 2023 dinner will feature Dr. Turkiya Lowe, Chief Historian for the National Park Service, as keynote. Focusing on the 50th anniversary of the NPS designation of the Lincoln Home National Historic Site, the program will discuss the ways Abraham Lincoln's life and legacy have been interpreted in the site over the years.
Dr. Lowe is distinguished as the first woman and person of color to serve as Chief Historian for the National Park Service. She holds a Doctorate and Master's degree in 20th century U.S. and African American history from the University of Washington, as well as a Bachelor's degree in history from Howard University. Before her current appointment with the NPS, Dr. Lowe served at historic sites across the country, including as Regional Program Manager for the National Underground Railroad Network to Freedom program assisting communities and stewards to tell the stories of Black resistance to enslavement through escape and flight.
Attendance to the Lincoln Dinner is $59 for members of the Lincoln Memorial Association who join or renew in January 2022, and $69 for the general public. For reservations, please call (909)798-7632 or email heritage@akspl.org.